EOSAM 2022 Topical Issue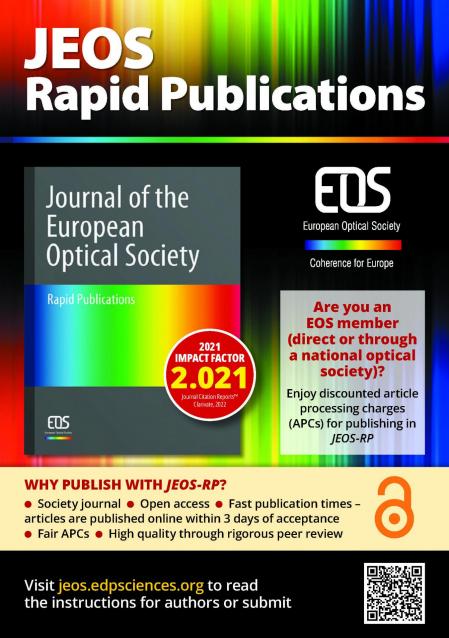 EOSAM 2022 Topical Issue: Publish an extended paper after the conference
The EOSAM 2022 conference took place in Porto last September. You can freely access the conference proceedings at: https://www.epj-conferences.org/articles/epjconf/abs/2022/10/contents/contents.html
In addition to these proceedings, EOS offers you an opportunity to submit an extended article about the results you presented at the conference. These articles will be gathered in the EOSAM 2022 topical issue of the EOS open access peer-reviewed journal: the Journal of the European Optical Society - Rapid Publications, JEOS-RP https://jeos.edpsciences.org/.
To be eligible for publication, your submission should add a significant value to the already published conference proceedings. It will be subject to the normal standards and peer review processes of the journal JEOS:RP.
Submission deadline for this EOSAM 2022 special issue is January 31, 2023, for a rapid and rigorous peer-review publication before April 31 2023.
JEOS:RP is a prompt, open access, high quality communications with peer-reviewing, published by EDP Science. The Editorial Board members are all leading, active scholars. You can find the scope here: https://jeos.edpsciences.org/
The 2021 Impact Factor of the Journal is 2.021.
Submit here: https://jeos.nestor-edp.org/
All authors receive a significant discount on the publication fees:
- Short communication (up to 4 pages):
500 € for EOS members
700 € for non-members

-Research paper (above 4 pages):
750 € for EOS members
950 € for non-members
Not yet a member? No problem!
You can join EOS here as an individual or corporate/institution member