Manufacturing, Tolerancing and Testing of Optical Systems
From Tuesday, 25 june 2019 to Wednesday, 26 june 2019
ICM - International Congress Center, Munich, Germany


Part of the EOS Optical Technologies conferences at the World of Photonics Congress 2019
Synopsis
The conference on Manufacturing, Tolerancing and Testing of Optical Systems will highlight significant technology trends, emerging technologies and associated prospective developments in the field of optics fabrication and testing. This conference provides a forum for all aspects of optics fabrication, tolerancing, and testing, ranging from micro to large-scale optics and from high value one-off to mass-produced components including lessons learned papers on special manufacturing issues such as polishing process stability and finishing processes for high-end optics, optics featuring clear apertures below 1 mm or above 100 mm in diameter. One main goal of the meeting is to provide a better link between the design, the manufacturing, and the characterization of optical components and systems. For the second time, there will be a reviewed industrial poster session displayed during the whole conference with companies presenting their key technology competences.
Conference program now available:
https://www.conftool.com/wpc2019/sessions.php
Important dates
Submission opens

January 10, 2019

Submission closes
(March 21, 2019) EXTENDED TO 22 APRIL
Notification to authors

(submissions by 21 March)

April 5, 2019

Notification to authors

(submissions after 21 March)

April 26, 2019

Pre-registration opens

March 2, 2019

Deadlin

e for Presenter registration

May 10, 2019

Early Bird Deadline

May 31, 2019

Pre-registration closes

June 2019
Chairs

Oliver Fähnle, FISBA AG (CH)
Sven Schröder, Fraunhofer Institute (DE)
PLENARY SPEAKER
Prof. David Walker
Title: The future of optical fabrication - demand, supply and technology
David Walker spent his earlier years at UCL developing optical instruments for some of the world's largest optical telescopes, becoming increasingly interested in manufacture and metrology of optical surfaces. In 2000 he co-founded Zeeko Ltd as Research Director, and developed a fertile university/company research-relationship. In 2004 he moved to the OpTIC Centre in North Wales to establish the National Facility for Ultra Precision Surfaces. He worked on numerous projects, including R&D based on a novel process-chain, for manufacture of prototype mirror-segments for the European Extremely Large Telescope. In 2014 he received the Institute of Physics prize for his work in astronomical instrumentation and commercialisation. He accepted a Professorship at the University of Huddersfield in 2016, and this year has moved his group from OpTIC to the national Daresbury Laboratory, as part of a strategic development with Huddersfield. His current research grapples with the ambitious vision of achieving fully-autonomous manufacture of ultra-precision surfaces.

Affiliations:
Professor of Ultra Precision Surfaces, University of Huddersfield
Honorary Senior Research Associate, University College London
Research Director, Zeeko Ltd
INVITED SPEAKERS
Dr. Christoph Zaczek
Title: Pushing precision manufacturing to the limits: optics for EUV lithography
Back in 1995 ZEISS began its EUV optics development program to enable EUV lithography @13.5nm. In 2019 semiconductor manufacturer will start high volume manufacturing of chips using an ASML EUV Step-and-Scan system with optics from ZEISS. This important milestone was achieved by pushing the limits of optics precision manufacturing from nm to pm range over the last two decades. The presentation gives some top level insights in the state of the art EUV optics manufacturing @ ZEISS.

Affiliations:
Carl Zeiss SMT GmbH
Prozesstechnologie (SMT-EP)
ZEISS Expert Ladder - Senior Principal
ZEISS Sparte Semiconductor Manufacturing Technology
Prof. Xuejun Zhang
Title: Development and Application of MRF Based on Robot Arm

Affiliation:
Changchun Institute of Optics, Fine Mechanics and Physics, Chinese Academy of Sciences (China)
TOPICS
The topics are ranging from Optics Design&Tolerancing up to Optics Fabrication&Applications
Design and Tolerancing of challenging optical systems

Optics Fabrication, from single piece to High-Volume Fab, from sub-millimeter optics to meter optics and wafer-level optics

Testing, Specification, and Characterization of Light Scattering,

Roughness, Shape, Defects, subsurface damage, MTF and mid-spatials

Finishing methods, e.g. SPDT, MRF, IBF, ductile grinding, FJP, laser polishing, CCP and traditional polishing

Optimization techniques in optics fabrication

Fabrication friendly Optical Design and Tolerancing

Lessons learned producing high level aspheres and freeform optics

Young start-ups presenting their innovative key-competence they are daring to make happen
PROGRAM COMMITTEE
Dr. (PhD) Stefan Bäumer, TNO (NL)

Olaf Dambon, Fraunhofer Institut für Produktionstechnologie IPT (DE)

Richard Freeman, Zeeko Ltd (UK)

Frank Frost, Leibniz-Institut für Oberflächenmodifizierung e.V. (DE)

Roland Geyl, SAFRAN A.S. group (FR)

Luisa Coriand, Lenstec (DE)

Norbert Kerwien, Carl Zeiss AG (DE)

Sven Kiontke, Asphericon (DE)

Prof. Jiri Novak, Czech Technical University in Prague (CZ)

Prof. Rolf Rascher, THD- Technische Hoschschule Deggendorf (DE)

Massimiliano Rossi, Media-Lario (IT)

Marcus Trost, Fraunhofer IOF (DE)

Prof. David Walker, UK

Marco Hanft, Carl Zeiss AG (DE)

Prof. Xuejun Zhang (CN)

Prof. Hui Wangh (CN)

Jessica Nelson, Optimax (US)

Andreas Ettemeyer, NTB Interstaatliche Hochschule für Technik Buchs (CH)
SUBMISSION

Submission for presentations is closed. Industrial posters can be sent until June 10: www.conftool.com/wpc2019

Submission time frame: January 10 - (March 21, 2019) EXTENDED TO APRIL 22
Submissions are accepted for oral and poster presentations. Companies have a choice to submit an industrial poster.
All 2-page abstracts submitted and presented at the conference will be added to the proceedings, published with EDP Sciences, in the Web of Conferences. The authors retain the copyright of their abstracts. The proceedings are indexed in main data bases and available online after the conference.
At least one author is requested to register for the meeting.

Read the Submission guidelines and download the templates before starting the submission process.
Industrial Poster for MOS Conference:
Companies have an opportunity to show their know-how to the conference attendees by sending a poster to be presented on the wall inside the conference room. This is an efficient (and inexpensive!) way to promote your company and have high visibility at the World of Photonics Congress.
Industrial posters will be reviewed by the program committee of the Manufacturing, Tolerancing, and Testing of Optical Systems (MOS) conference.
Accepted posters will be visible in the conference room for the duration of the conference. There is space for 18 posters. Acceptance will be made on first come, first served basis, i.e. first 18 posters accepted and paid for will be presented in the conference room.
The intention of the poster is to present the know-how of the company (rather than marketing products). The short abstract (max. 600 words) you submit is meant solely to describe to the program committee what your poster will contain, and it will not be published in the proceedings of the conference.
This poster does not include presentation or admission to the conference.
The fee is 100 EUR (excl. 24% VAT), and we ask you to provide the poster onsite, either by postal mail or delivery in person to the registration desk of EOS during the registration hours. EOS staff will put up the poster inside the conference room.

The required size is DIN A0.
After the program committee has accepted the poster, the fee (100 EUR, excl. 24% VAT) will be paid by credit card via Conftool, or with an invoice, also available in Conftool.
If, in addition to sending the industrial poster, you wish to also attend the conference, simply register as a participant and gain access to all conferences at the World of Photonics Congress. If you wish to submit an abstract, please do so by selecting the corresponding conference from the list, for either oral or poster presentation.

Submit by June 10: www.conftool.com/wpc2019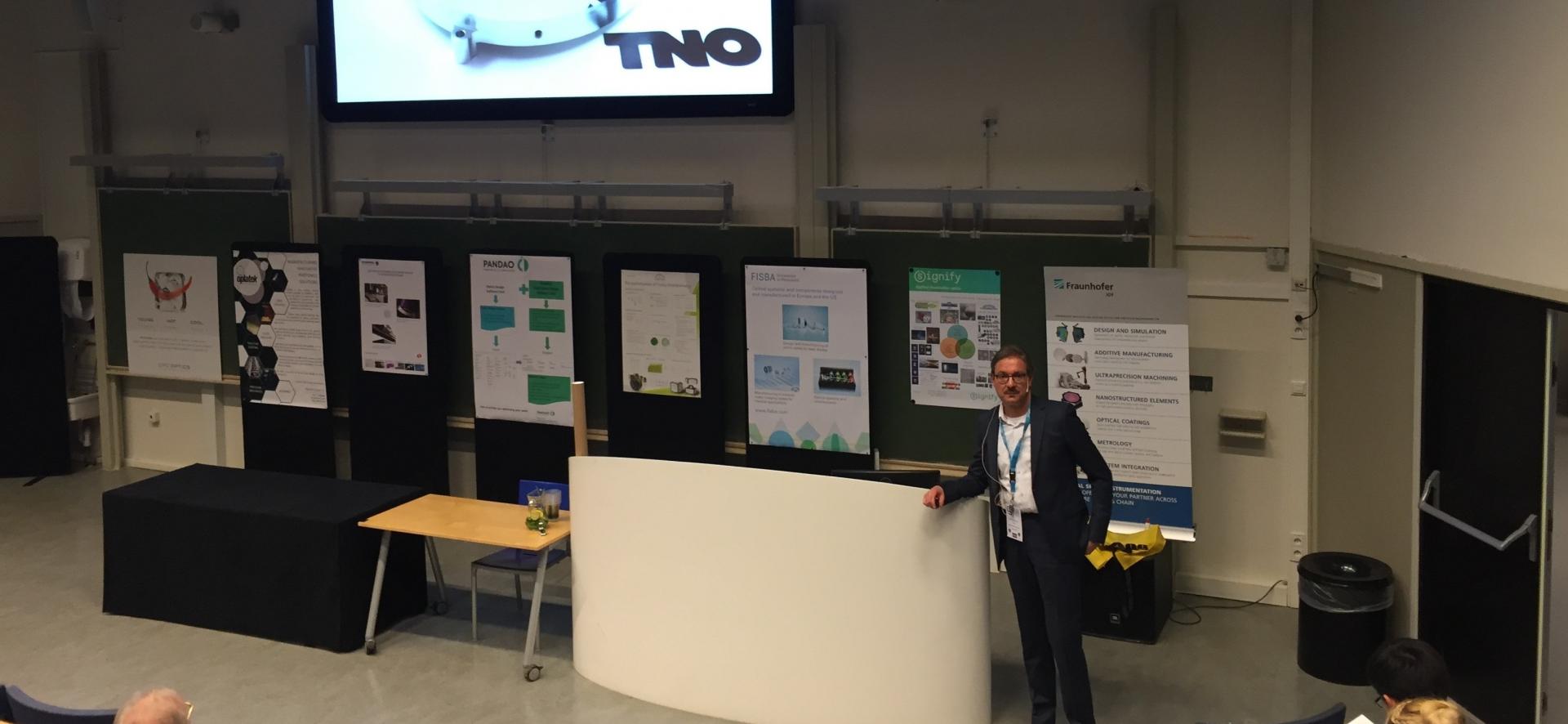 Registration
Pre-registration opened on March 2, 2019.
REGISTER for the conference here: https://www.conftool.com/wpc2019
Registration fees
Early Bird*

Regular/ Onsite

Excl. VAT¹⁾

Incl. VAT ²⁾

Excl. VAT¹⁾

Incl. VAT²⁾

Full member ³⁾

EUR 451,60

EUR 560

EUR 524,20

EUR 650

Non member

EUR 556,45

EUR 690

EUR 629,00

EUR 780

Student member ³⁾

EUR 161,30

EUR 200

EUR 201,60

EUR 250

Student non member

EUR 201,60

EUR 250

EUR 225,80

EUR 280

One Day

EUR 205,65

EUR 255

EUR 258,00

EUR 320
* The Early Bird ends Friday, May 31, 2019, midnight 00:00 CET
¹⁾ VAT 24% is excluded for Non-EU companies, EU companies and businesses (except Finland) with VAT number
If you are entitled to VAT excluded price at the registration phase, you are required to either announce the VAT number or your nationality (if outside EU) while registering.
²⁾ VAT 24% is added to private persons, as well as companies and businesses in Finland with VAT number, according to the Finnish VAT act §69H.
³⁾ Members of the European Optical Society (EOS), and members of EOS Partner Societies are entitled to register with EOS member fees.
The congress ticket includes:
- Access to the EOS Optical Technologies conferences and other societies' conferences organized at the World of Photonics Congress 2019
- Conference Proceedings of EOS Optical Technologies conferences published in the Web of Conferences (indexed)
- Printed program of the EOS Optical Technologies conferences
- Entrance free of charge to the LASER World of PHOTONICS, the World's Leading Trade Fair for Photonics Components, Systems and Applications
- The forum program in the exhibition halls (Application Panels, exhibitor presentations)
The congress ticket does not include public transportation services. Please remember that you need a separate MVV ticket for using public transport.
Registration as a speaker
If you submit to the EOS Optical Technologies conference, you need to register your ticket with EOS.
Of course, you can visit all other conferences as a member of audience with this "speaker" ticket.
Joint session held together with