EOS Annual Meeting (EOSAM) 2023
From Monday, 11 september 2023 to Friday, 15 september 2023
The European Optical Society Annual Meeting, EOSAM, is a major international scientific conference covering all aspects of optics and photonics.

The 11th EOSAM is organized by EOS and SFO onsite in Dijon, France, at the Dijon Exhibition and Convention Center, 11 - 15 September 2023.
The European Optical Society Annual Meeting, EOSAM, covers all aspects of optics and photonics within several topical meetings and sessions. It is attended annually by over 500 top researchers, key leaders, students, and industry experts from over 30 different countries all over the world.
EOSAM is a great platform for presenting the most recent research results, for connecting and catching up, as well as bridging the gap between research, education and industry.
Each year EOSAM moves into different optics hubs better serving the local communities and at each time creating a unique EOSAM experience for the attendees. EOSAM has been organized since 2006 in France, Scotland, Germany, the Netherlands, Italy and Portugal.
Download the EOSAM Mobile app
You can download the official EOSAM mobile app to your phone or tablet. The application provides the following features:
Access to the up-to-date agenda (sessions, speeches, speakers)
Ability to customize your own personal schedule for the conference
Easy access to the conference's key information (venue, sponsors, etc.)
Conference's venue maps
Offline functionality—no need for active internet connection
Conference news and updates
Official list of participants of the conference
Link to the conference feedback survey
The EOSAM mobile app is everything you need for a succesful conference experience, download it now!
Search: "EOSAM" in your application store, or scan the QR code to download the app. Password provided to participants.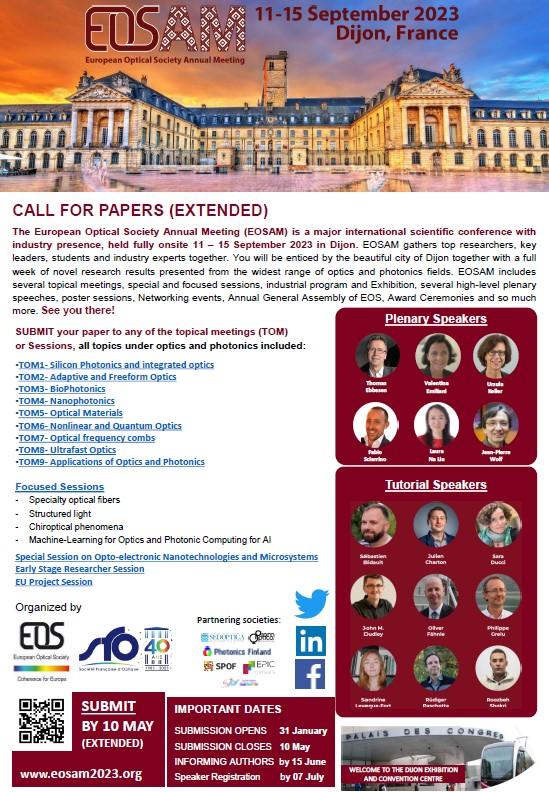 Dowload the Call for Papers

Eosam cfp extended v2 (675.24 KB)
Thomas
Ebbesen

Valentina
Emiliani

Ursula
Keller

Fabio
Sciarrino

Laura
Na Liu

Jean-Pierre
Wolf

Tatiana


Novikova

Bo


Zhen
Sébastien
Bidault

Julien
Charton

Sara
Ducci

John M.
Dudley

Oliver
Fähnle

Philippe
Grelu

Sandrine
Leveque-Fort

Rüdiger
Paschotta

Roozbeh
Shokri

Antoine
Dubrouil

/>