Schedule
Planned Overview of the schedule
Detailed conference schedule: https://www.conftool.com/eosam2021/sessions.php

By registering for the onsite conference, you will gain access to everything listed in the schedule.
The onsite fees are All-inclusive and include all coffee breaks, lunches, networking event/dinner, access to all sessions, industrial exhibition, etc.
Dinner registration required separately.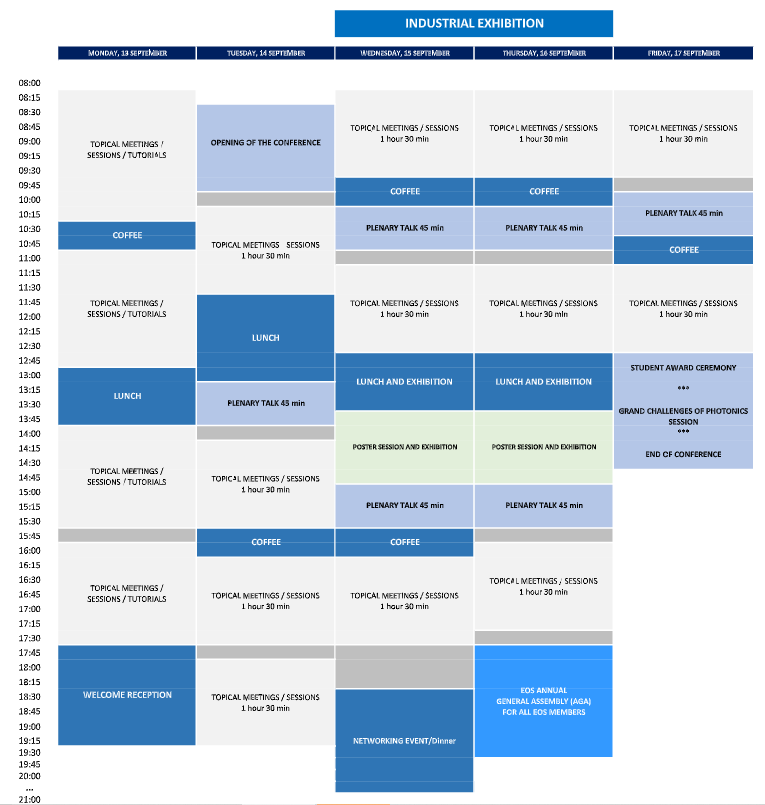 Monday 13 September
Tutorials and topical meetings
As in previous EOSAM conferences, in addition to the conference program including contributed and invited speakers during Tuesday-Friday, we wish to provide an additional benefit to all registered attendees at EOSAM in the form of tutorials covering TOM topics. The tutorials are targeted for students new to the field but also others are welcome to attend. Participation of these tutorials is free for all registered participants of the conference. In addition to the tutorials, in contrary to past EOSAM schedules, some of the topical meetings will already be started on Monday due to higher amount of submissions this year.

Welcome Reception
Starting the conference week with getting to know the community and meeting your colleagues after such a long isolation due to the pandemic. This is something we are all looking forward to! Join the evening event to meet everyone and enjoy refreshments in a relaxed atmosphere.

Tuesday 14 - Friday 17 September
The conference program is started on Tuesday morning with the opening ceremony for the conference. We follow this with hundreds of presentations in parallel sessions of the topical meetings, plenary talks, special sessions on EU projects and challenges in photonics, poster sessions, coffees and lunches onsite, industrial exhibition, and more. This year EOSAM is bigger than ever with more than 440 presentations! Networking is an important aspect of the EOSAM experience so we will provide several opportunities for you to interract with colleagues. Details and dates for the events and sessions to follow.
Opening Ceremony
Plenary Speeches
Topical meeting sessions
EU project session
Grand Challenges in Photonics session
Early Stage Researcher Sessions
Poster Sessions
Industrial Exhibition 15 - 16 September
Networking event/ Dinner
Annual General Assembly of EOS (all EOS members are welcome to attend)
Award Ceremonies:

Best student presentation award Ceremony
ICO Prize Ceremony (together with a plenary speech by the 2019 Award winner, Manuel Guizar-Sicairos)