THz Imaging 2023 Topical Issue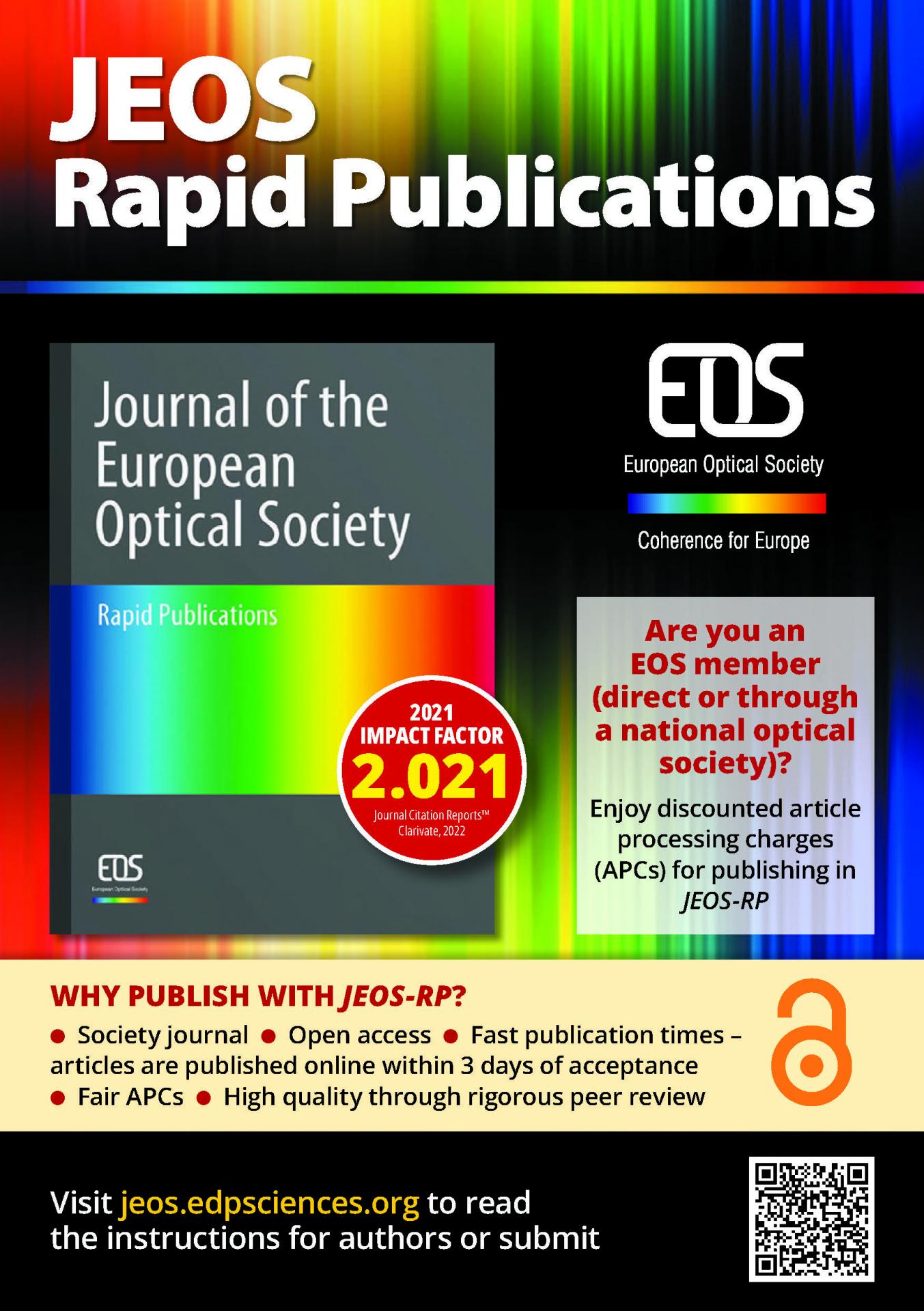 The Journal of European Optical Society (JEOS - https://jeos.edpsciences.org/) is pleased to announce a new Special Issue entitled "Terahertz Imaging".
Topics of interest for this special issue include, but are not limited to:
sources and detectors for THz Imaging,
passive or active devices for beam shaping and beam steering,
novel imaging technics,
image processing methods,
applications (Non-destructive testing, biology, security, medicine, cultural heritage, space...).
We also encourage submissions on non-classical sub-topics, such as Quantum Terahertz Imaging, Terahertz Plasmonics Imaging, Terahertz Single-Photon Imaging, and Terahertz Super-resolution Imaging, which explore the frontiers of terahertz technologies.
Submitted manuscripts will undergo a rigorous peer-review process, ensuring the highest standards of scientific quality and integrity expected from the journal JEOS:RP. Papers adding a significant value to the field will be published in this special issue, providing an opportunity for your research to gain visibility and make a significant impact in the field.
Submission deadline for this Special Issue is October 15, 2023, for a rapid and rigorous peer-review publication before December 31, 2023 (to submit: https://jeos.nestor-edp.org/)
Papers can be submitted immediately or at any point until this date. Submitted articles will be reviewed on an ongoing basis and published online pending publication of the special issue.
Guest Editors
Ass. Prof. Aurèle ADAM, ImPhys Department, Optics Research Group, Delft University of Technology, Netherlands.
Prof. Frederic Garet, IMEP-LAHC Laboratory, University of Savoy, France.
JEOS:RP is a prompt, open access, high quality communications with peer-reviewing, published by EDP Science. The Editorial Board members are all leading, active scholars. You can find the scope here: https://jeos.edpsciences.org/
The 2021 Impact Factor of the Journal is 2.021.
Fees
All authors receive a significant discount on the publication fees:
Short communication (up to 4 pages):
500 € for EOS members
700 € for non-members
Research paper (above 4 pages):
750 € for EOS members
950 € for non-members
NB: Furthermore, no publication is charged if your Institution/University has signed the "Open Access agreement". Check the list here.
Join us in shaping the future of terahertz imaging. Submit your original research, or innovative methodologies today!
Important Dates:
Submission Deadline: 15 October 2023