Partner journals
Partner magazines
Partner magazines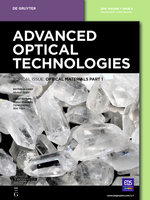 Advanced Optical Technologies is a new international journal on classical and modern optical research. Advanced Optical Technologies addresses the market need for a high-quality academic journal with a strong focus on industry. In addition to publishing academic reviews, articles and letters, Advanced Optical Technologies introduces tutorials as a new industry related format and is committed to rapid publication of short industry communications. The journal will also be reporting on current industrial developments such as standards or regulations.
Publisher
De Gruyter
Subscriptions
All EOS members are entitled on free online access. Please contact EOS Office (info@europeanoptics.org) to gain access.

Top of page

Electro Optics is the leading European publication for the photonics industry, covering business, applications and technology.
The magazine is published 10 times a year (in both print and digital formats), and is essential reading for engineers, researchers and entrepreneurs involved in the business of photonics. It is packed with informed comment, expert analysis, application stories, business trends and, of course, the latest news and products.
The magazine is supported by a website, www.electrooptics.com, and two regular monthly email newsletters, EONewsline and EOProductline.
Publisher
Europa Science Ltd.
Subscriptions
Subscription is free to qualifying individuals from the EOS membership. To subscribe, go to www.electrooptics.com/subscribe.
Photoniques is the magazine of the French Optical Society (SFO). The editor-in-chief is Dr. Nicolas Bonod, research director at CNRS, he carries out his research at the Fresnel Institute (Marseille). He is member of the SFO Execom. The editorial board is composed of volunteer members of SFO, coming from the academic or industrial communities. By choosing the thematic dossiers and authors, the board aims at giving the most accurate and up-to-date snapshot of photonic solutions and research. More information here.

In april 2017, Photoniques edited a special EOS issue in English. It is addressed to the whole photonics community throughout the 21 countries involved in the European Optical Society (EOS). This special English issue combines technical marketing, historic and R&D articles on photonics, as well as a technical back-to-basics paper and a buyer's guide.

Click for the special EOS/SFO issue 2017
Click for the special EOS/SFO issue 2018
Click for the special EOS/SFO issue 2019
Click for the special EOS/SFO issue 2020