EOS Prize
The EOS Prize is awarded annually for the best paper published in the open access online journal of the EOS (JEOS:RP) https://jeos.edpsciences.org/
The Prize is awarded in-person during the EOS Annual Meeting, EOSAM. It consists of a diploma and of an invitation to present a plenary lecture, the JEOS-RP Highlight, during this same meeting. This lecture should be closely related to the research covered by the paper with the same list of authors. The registration fees for the author presenting the lecture are waived.
The best paper is selected by the EOS Prize Committee: the two JEOS-RP Chief Editors and the EOS Past President.
The history of the EOS Prize
Thanks to Pierre Zaleski, the former administrator of Europtica Services IC (ESIC), EOS has received a donation from the capital remaining after the dissolution of ESIC. According to the wishes expressed by ESIC, this donation will be managed in such a way as to generate revenue to be used for an EOS prize to promote OPTICS in the widest form in Europe.
EOS PRIZE 2022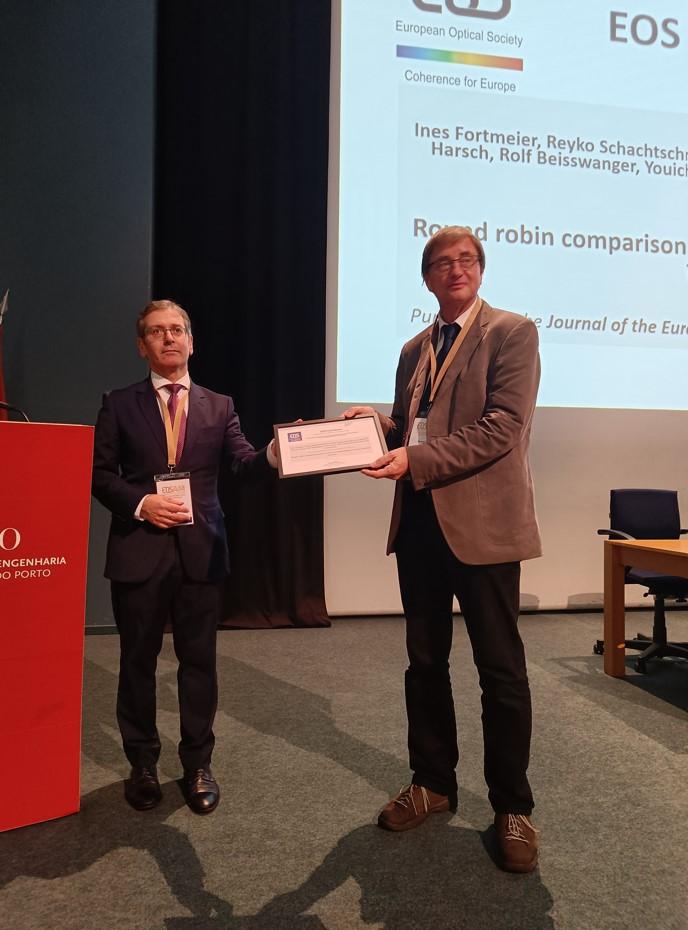 In 2022, the EOS Prize was awarded to the paper titled "Round robin comparison study on the form measurement of optical freeform surfaces."
Journal of the European Optical Society-Rapid Publications 16.1 (2020): 1-15, by Ines Fortmeier, Reyko Schachtschneider, Vit Ledl, Ondrej Matousek, Jens Siepmann, Antonia Harsch, Rolf Beisswanger, Youichi Bitou, Yohan Kondo, Michael Schulz and Clemens Elster.
The winners received a diploma at EOSAM 2022 in Porto, Portugal, and gave a plenary presentation on the work at the conference.
EOS PRIZE 2020

In 2020, the EOS Prize was awarded to the paper titled ,,Tapered Photonics Crystalfibers coated with ultra-thin films for highly sensitive bio-chemical sensing" by Vladimir P. Minkovitch from Guanajuato University, Mexico and Alexander B. Sotsky from Mogilev State University, Mogilev, Belarus. The winners received diplomas and honorarium included in this award. Warm congratulations to the winners!




EOS Prize 2012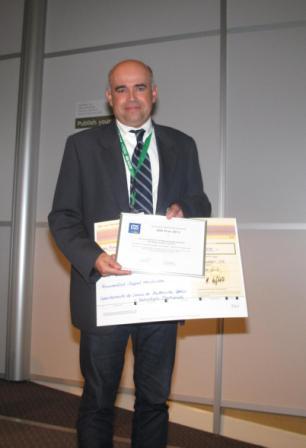 In 2012, the JEOS:RP paper on "Low cost production of computer-generated holograms: from design to optical evaluation" was awarded the EOS Prize at the Annual General Assembly 2012 in Aberdeen, Scotland (UK).
IGNACIO MORENO1, ANTONIO MARTÍNEZ-GARCÍA1, LUKASZ NIERADKO2,3, JORGE ALBERO2, CHRISTOPHE GORECKI2
1Dept. de Ciencia de Materiales, Optica y Tecnología Electrónica, Universidad Miguel Hernández (ES);
2Dépt. MN2S, FEMTO-ST (UMR CNRS 6174), UFR Sciences (FR);
3Wroclaw Research Centre EIT+ (PL)
Published in the Journal of the European Optical Society – Rapid Publications (JEOS:RP), Vol. 5
​​​​
​
EOS Prize 2011
THREE-GRATING MONOLITHIC PHASE-MASK FOR THE SINGLE-ORDER WRITING OF LARGE-PERIOD GRATINGS
YANNICK BOURGIN1, ISMO VARTIAINEN2, YVES JOURLIN1, MARKKU KUITTINEN2, FRÉDÉRIC CELLE1, SVETLEN
TONCHEV1, OLIVIER PARRIAUX1, TAPIO NIEMI3
1Université de Lyon, Laboratoire Hubert Curien, UMR CNRS 5516, 18 rue de Pr. B. Lauras, 42000 Saint-Etienne(FR);
2University of Eastern Finland, Department of Physics and Mathematics, P.O. Box 111, 80101 Joensuu (FI);
3Tampere University of Technology, P.O. Box 527, 33101 Tampere (FI).
Published in the Journal of the European Optical Society – Rapid Publications (JEOS:RP), Vol. 6
EOS Prize 2009
ULTRAFAST GAIN SWITCHING IN CONJUGATED POLYMER-DOPED PLASTIC OPTICAL FIBERS
J. CLARK1, L. BAZZANA2, W. C. TSOI3, R. XIA4, A. L. MENDONCA5, A. CHARAS5, J. CABANILLAS-GONZALEZ1,
T. VIRGILI1, L. PARACCHINI1, D. D. C. BRADLEY4, D. G. LIDZEY3, J. MORGADO5, A. NOCIVELLI2, G. LANZANI1
1Politecnico di Milano, Dipartimento di Fisica and Istituto di Fotonica e Nanotecnologie - CNR (IT); 2LUCEAT S.p.A., (IT);
3University of Sheffield, Physics Department (UK); 4Imperial College, Physics Department (UK); 5Instituto de Telecomunicacioes, and
Departamento de Engenharia Química, Instituto Superior Técnico (PT).

PRECISION MEASUREMENTS OF GRAVITY USING COLD ATOM SENSORS
F. SORRENTINO1 , M. DE ANGELIS1, A. BERTOLDI2, L. CACCIAPUOTI3, A. GIORGINI4, M. PREVEDELLI5, G. ROSI6,
G.M. TINO7
1Istituto di Cibernetica CNR (IT); 2Laboratoire Charles Fabry de l'Institut d'Optique (FR); 3ESA Reasearch and Scientific Support Department (NL); 4Dipartimento di Fisica, Università di Napoli (IT); 5Dipartimento di Chimica Fisica e Inorganica, Università di Bologna
(IT); 6Dipartimento di Fisica "Enrico Fermi" (IT); 7Dipartimento di Fisica and LENS, Università di Firenze - INFN (IT).
EOS Prize 2007
GENERATION OF SQUEEZING IN HIGHER ORDER HERMITE-GAUSSIAN MODES WITH AN OPTICAL PARAMETRIC
AMPLIFIER
M. LASSEN1,2, V. DELAUBERT1,3, C.C. HARB1,4, P.K. LAM1, N. TREBS3, H.-A. BACHOR1
1 The Australian National University, ACQOA (AU); 2 Department of Physics, DTU (DK); 3Laboratoire Kastler Brossel (FR); 4 School of
Information Technology and Electrical Engineering, University College, The University of New South Wales (AU).
Published in the Journal of the European Optical Society – Rapid Publications Vol. 1, 06003 JEOS:RP (2006).
EOS Prize 2004
A "POOR MAN'S APPROACH" TO MODELLING MICRO-STRUCTURED OPTICAL FIBERS
JESPER RIISHEDE1, NIELS ASGER MORTENSEN2, JESPER LAEGSGAARD1
1 Research Center COM, Technical University of Denmark, Lyngby (DK); 2 Crystal Fibre A/S, Birkerod, Denmark..
J. Opt. A: Pure Appl. Opt. 5 (2003) 534-538 (DK).
EOS Prize 2003
K. VOLKE-SEPULVEDA1, S. CHAVEZ-CERDA1, V. GARCES-CHAVEZ2, J. ARLT2 AND K. DHOLAKI2
1 Instituto Nacional de Astrofisica, Optica y Electronica in Puebla (MX); 2 School of Physics and Astronomy at St. Andrews University
(UK).
EOS Prize 1998
FRANCO GORI, MASSIMO SANTARSIERO, SILVIA VICALVI, RICCARDO BORGHI AND GIORGIO GUATTARI
Universitá di Roma & Istituto Nazionale per la Fisica della Materia - Universitá La Sapienza (IT).
EOS Prize 1997
THOMAS HESSLER1, MARKUS ROSSI1, JØRN PEDERSEN1, MICHAEL GALE1 AND MICHAEL WEGNER2, DANIELA STEUDLE2, HANS J. TIZIANI2
1 Paul Scherrer Institut (CH); 2 Universität Stuttgart (DE).
EOS Prize 1996
ANTON ZEILINGER
University of Innsbruck (AT).